A Great Selection of the Membership Getting the Public Excited About Woodworking!
Educating others about the joy of woodworking is one goal of SWWA's annual visit to the New York State Fair.  We are located in the Daniel Parrish Witter Agricultural Museum, the oldest building on the 375 acre grounds.  The Museum depicts life in the 1800s and as such, our demonstrations focus on woodworking prior to rural electrification.  We use tools such as hand planes, hand saw, chisels, a treadle scroll saw, a spring pole lathe, a shaving horse, our club workbench, and other tools to demonstrate woodworking as it was.  The key – no electricity can be used to power the equipment. Why?  Because there was no electricity in the 1800's!  
In 2014, 27 members spent six to ten hours a day at our demonstration area working on various projects,interacting and entertaining many of the estimated 70,000 visitors that came through the Museum.  Many visitors learned a lot.  Charlie LaPrease's demo of Bernd Krause's spring pole lathe was particularly popular.  He worked with 30-100 people per day showing how the lathe works. Terry Dote spent 8 days working with veneer on a half round table discussing veneering techniques, sharpening, and design with many fairgoers.  Bob Casey and Tony Baleno demonstrated Shaker box making on the first weekend.  John Witherbee turned and cut parts to produce a Shaker sewing table.  Jason Wrench used his hand tools to cut dovetails for small storage box. Norm Thomas carved a small figure. Bill Brown carved a large sign. Mike Shuron adjusted and assembled several different small trucks. Barbara Raymond-LaPrease cut and assembled parts for two sets of reindeer on the treadle scrollsaw. Many folks cut over 500 small animals using the 137 year old treadle scrollsaw.  The animals were then given to polite kids who stopped by. The recycled cedar shakes used on the the scrollsaw were prepared on the shaving horse with a draw knife and then on the workbench using the hand plane.  All in all, it was a very successful event.  We demonstrated. We talked. We educated. We had fun.  Next year … we'll do it all again!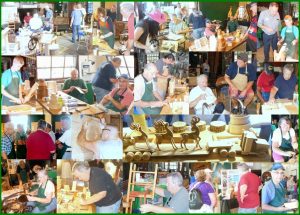 Thank you SWWA members for your support!
Home Community Support 
Scenes from SWWA Demonstrating at the 2014 New York State Fair!   We Had Fun!!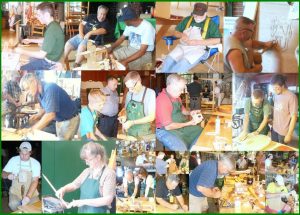 Veneering with Terry Dote at the 2014 New York State Fair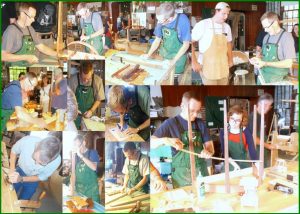 Turning on the Spring Pole Lathe at the 2014 New York State Fair
Scrolling on the Vintage 1877 Challenge Scroll Saw at the 2014 New York State Fair
John Witherbee Making a Shaker Sewing Table at the 2014 New York State Fair