"I LOVE the picnic!  It's a great event that allows me to casually chat with fellow woodworkers! And, it's free!
Each August, members and their families are invited to attend SWWA's annual family picnic. It is one of the benefits of membership.  There is no charge to attend, we just ask that folks bring a dish to pass – even if it is a box of cookies from the grocery store. We hold our picnic at the Belgium Cold Springs Fire Department's Station One Community Room which is located at 7920 River Road, Baldwinsville.  It is held on Saturday afternoon, starting at 1pm and ending by 4pm. Why inside?  The weather in August can be oppressively hot or rain.  By holding it inside, we are assured that everyone is comfortable.
A few years ago we added an instant gallery to the picnic.  Members bring projects so everyone attending the picnic can see some of the great pieces constructed by our members.  While great casual conversation is also a big part of this relaxing day, we also have some fun.  Each year a woodworking-based crossword puzzle is distributed.  Near the end of the event, solutions to the puzzle are announced.
Below are photos of past picnics and their instant gallery.
Images from the 2014 and 2013 Family Picnics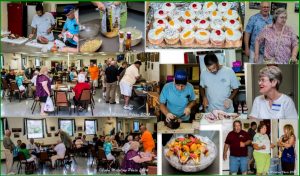 Instant Gallery 2014, 2013, & 2012