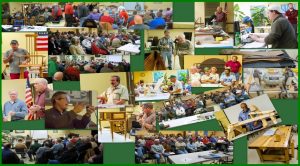 Monthly meetings are held in the Community Room at Belgium Cold Springs Fire Department's Station One which is at 7920 River Road, Baldwinsville, NY.  The meetings generally start at 6:30pm and end by 9pm. Attendees start assembling around 6pm to enjoy conversation and review of displayed items. Each month we feature a different topic, demonstration, or event based on member's interests and market forces.  Our 2016 meeting schedule can be viewed by clicking here. In addition to the featured event, we have a Show & Tell session, a business meeting, and hold raffles.
Monthly Meeting Topics
Many topics have been covered by monthly SWWA meetings during its 25 years of existence. Some of the topics we've explored are listed below. The Board welcomes suggestions from members for topics to be covered.
Special Meetings & Events
Certain meeting nights the event is one of our special events.  Members love these events and rarely do we change the month in which they are scheduled.  More details of these special meetings can be found here.
April – It's Jig Night! [Sometimes rescheduled!]
May – Annual Swap Meet & Auction
August – Super Show & Tell
August – Annual Family Picnic
November – Woodworker's Challenge
December – Holiday Dinner & Presentation of Wooden Toys for Underprivileged Children
| | |
| --- | --- |
| Alternative Wood Sources | Making Cutting Boards |
| Antique Tools | Making Mortise & Tenons |
| Bending Techniques[- Steam, Water, Electrical | Rust Removal |
| Boat Building – Canoes, Kayaks, & Skiffs | Scroll Sawing |
| Cabinet Making | Sharpening Tools |
| Clock Repair | Shingle Making |
| Coopering | Shop Electricity |
| Cutting Mortise &Tenon | SketchUp |
| Deciphering & Using Project Drawings | Spalting Wood |
| Decorative Corners with the Router | Stickley Stories |
| Double-Bevel Marquetry | The Shaker World |
| Dulcimer Building | Timber Framing |
| Dust Collection | Turkey Calls |
| Electrifying the Shop | Turning a Bracelet |
| Finishing Techniques | Turning a Peppermill |
| French Polishing | Using a Scraper |
| Hand Cut Dovetails | Using Stains & Dyes to Color Projects |
| Hand Plane Use | Veneering |
| Hand Scrapers Use | Windsor Chair Production |
| Harden Furniture – An Inside Look | Woodcarving |
| Instrument Repair | Wood Collecting |
| Jigs for Easier Woodworking | Wood Spalting |
| Joinery Techniques | Woodturning |
| Kolrosing | Workshop Construction |
| Lamination Techniques | Vendor Presentations |