I took an old dresser and with a little woodworking, modified it into a bathroom vanity. The dresser was purchased from a Habitat for Humanity store for $30.00. I had to rebuild two of the drawers before I could refinish the piece.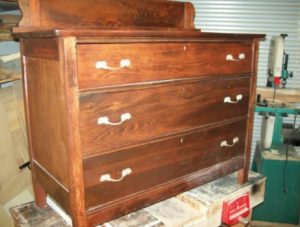 We used the dresser, as seen here, for a while before converting it into a bath vanity.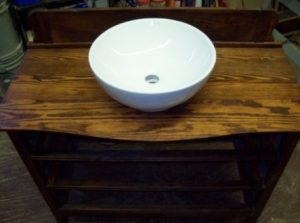 Here I'm testing the placement of the sink.
Drilling hole for sink drain.
Had already purchased bathroom faucet before getting idea to use vessel sink so I had to figure how to raise faucet to make it usable with sink.
I used a pine 4X4 with 3/4″pine board on top for a riser.
There is a link at the bottom to faucets that already have a riser so you don't have to go through the trouble of making one.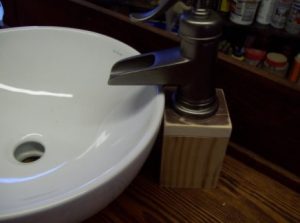 Testing how it will all look on bathroom vanity.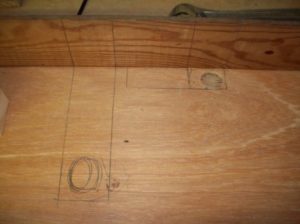 Most vanities have false front for 1st drawer. I needed to utilize the space so I had to configure drawer around drain and water supply pipes for faucet.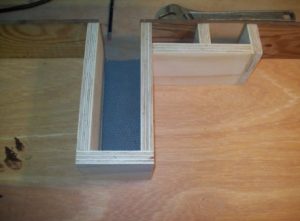 Here is my 1st attempt to remove the least material possible.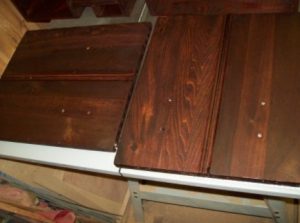 These are 2 fronts of bottom drawers. I glued them to a piece of 1/4″lauan and cut them in half on my tablesaw to make 2 cabinet doors.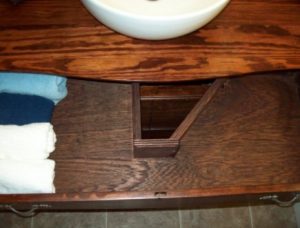 Here is picture of top drawer finished. I had to do more modification to miss water pipes.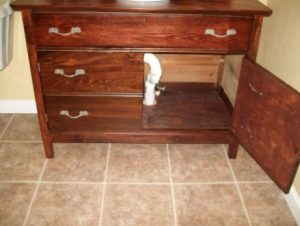 Here picture of after with one door opened.(Afterthought:I should've stained inside)
Interested doing a bathroom renovation project like this? Get the lowest prices on a vessel sink
 for your bathroom.
Buy your own vessel sink faucet
.
Very happy with finished bathroom vanity. See bathroom renovation. This was a fun woodworking project.